Gross Domestic Product
Monaco's GDP for 2018 crossed the EUR 6 billion mark for the first time to reach EUR 6.09 billion, compared with EUR 5.69 billion in 2017. It increased by +6.1 % in real terms, corrected for inflation.
GDP indicators
| | | |
| --- | --- | --- |
| 6,09 | current billion euros | |
| +6.1 | % | |
Following a slowdown in the pace of growth in Monaco (from +9.6% in 2013 to +3.5% in 2016 and -3.4% in 2017), GDP recovered in 2018.
In 2017, these two sectors faltered and even experienced a slight decline. Their performance has had a direct impact on the Principality's total GDP.
Three sectors produce nearly half of the wealth generated in the Principality:
Financial and insurance activities (17.8%)
Scientific and technical activities, administrative and support services (17.0%)
Real estate activities (10.0%), which reached the top three as a result of the decline in the construction sector
These three top sectors are making gains, with each having achieved their highest ever levels. The GDP of financial and insurance activities rose by 7.7%, exceeding EUR 1 billion for the first time.
Despite the decline in GDP, employment continued to increase during 2017, in both the public and private sectors, with an additional 1,853 employees (+3.5%) recorded in December. The amount of wages paid rose by 4.1%, representing more than half of GDP (50.8%). This corresponds to the share of annually created wealth which is redistributed in the form of salaries and social security contributions.
After four consecutive years of growth, the gross operating surplus generated by companies fell (-9.5% in nominal terms). Monegasque entrepreneurs appear to have put employment ahead of their margins.
Taxes paid on products increased 0.1% in nominal terms but fell by 0.6% in real terms (corrected for inflation), contributing 13.1% of wealth produced. VAT on property and transfer duties in particular declined, while other taxes rose.
The amount of subsidies increased substantially (+16.1%), primarily due to the creation of the Dependency Fund and money allocated to the energy transition.
GDP per capita was EUR 67,786, down 6.7% in real terms.
GDP "per capita" indicators
| | | |
| --- | --- | --- |
| 70,881 | current euros | Source: Monaco Statistics |
| +3.5 | % | Source: Monaco Statistics |
GDP per employee, an indicator of productivity, also fell by 6.8% to EUR 104,603.
GDP per employee indicators
| | | |
| --- | --- | --- |
| 108,112 | current euros | Source: Monaco Statistics |
| -6.8 | % | Source: Monaco Statistics |
Download the GDP Reports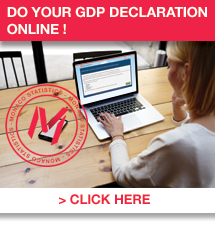 Contact