Economy Bulletin
Data at 1st quarter 2021
Total trade, excluding France, increased quite substantially (+13.2%) but remains much lower than the levels seen in 2018 and 2019, though considerably higher than in 2017.
In the first quarter of 2021, the Principality's revenue, excluding financial and insurance activities, stood at €3.22 billion, a decline of €259 million (-7.4%) compared with 2020. Only four major economic sectors (MES) saw an increase in revenue.
Employment in the private sector fell during the first quarter.
Slightly fewer new businesses were started (188 compared with 208 in 2020). There was also a decrease in the number of businesses closed (118 compared with 130 in 2020).
The main hotel industry figures remain significantly depressed, with only March seeing an increase in the occupancy rate. Cruise activity remains at a halt following the closure of territorial waters.
The real estate market is down compared with the first quarter of 2020.
The number of new vehicles registered increased by 18.2%. Use of public car parks fell slightly (-6.0%). Air traffic continues to be extremely hard hit.
Download the Economy Bulletin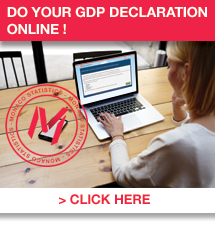 Contact