Economy Bulletin
Data at 3rd quarter 2019
The total volume of trade continues to grow and has exceeded €2.6 billion. In nominal terms, imports are rising faster than exports, resulting in an increased trade deficit.
As at the end of September 2019, the Principality's revenue, excluding financial and insurance activities, was down slightly (-€127 million or -1.2%) compared with 2018, despite good performance during the third quarter (+6.9%).
Employment in the private sector was up 3% compared to the third quarter of 2018, particularly in the Information and communication sector, supported by hardware and software consultancy activities.
Compared with last year, there was an increase in the number of entities started and those permanently closed down (+3%), with the balance rising slightly (+275 entities)
The main figures for the hotel industry saw an improvement. The number of rooms occupied and the number of check-ins both rose, while the average length of stay was stable. The hotel occupancy rate fell slightly (-0.6%).
There was a drop in the cumulative total number of cruise passengers since the beginning of the year – primarily the result of ship cancellations following schedule changes or due to weather reasons.
The real estate market increased in nominal terms but decreased in real terms.
Despite a rise in new vehicle registrations during the third quarter, the cumulative total for the year remains below the figures seen in 2018.
Use of public car parks also declined. Air traffic was up and passenger numbers were stable.
Download the Economy Bulletin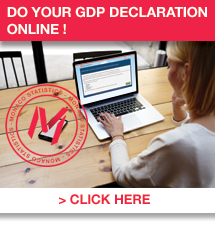 Contact