Economy Bulletin
Data at 4th quarter 2021
Reaching €2.9 billion at the end of December 2021, the overall volume of trade, excluding France, is up significantly (+23.0 %), and get its pre-crisis dynamic back.
The Principality's revenue, excluding Financial and insurance activities, largely exceeds that of 2019 and amounts to €16.0 billion, an increase of 13.3 % compared to 2020.
The number of active jobs, which reached almost 57,000 at the end of the fourth quarter, exceeds its pre-crisis level for the first time.
In 2021, establishment creations are up on last year and strike-offs are stable. Thus, the balance of new establishments - permanent closure increases (+356 against +295 in 2020).
All hotel indicators are on the rise but remain below their pre-pandemic levels.
The real estate market increases compared to 2020 without returning to its 2019 level.
The number of new car registrations is up (+21.0 %) as is the use of public car parks (+12.0 %). Although it is significantly higher than in 2020 in terms of movements and passengers, air traffic remains well below its 2019 level.
Download the Economy Bulletin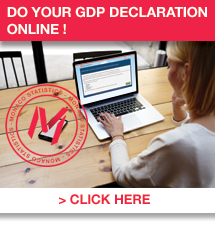 Contact