Economy Bulletin
Data at 4th quarter 2019
The total volume of trade, excluding France, continued to increase, exceeding €3.5 billion for the first time thanks to a rise in both sales (+1.7%) and, especially, purchases (+12.7%). The trade deficit widened.
In 2019, the Principality's revenue, excluding financial and insurance activities, increased slightly (+€162 million or +1.1%) compared to 2018, despite the dip experienced during the first six months of the year.
2019 concluded with improved figures for private sector employment, with nearly 1 500 additional jobs compared with the previous year. The number of employers also increased.
As in 2018, the highest numbers of net new businesses were seen in three major economic sectors (MES): scientific and technical activities, administrative and support services (+97 businesses), real estate activities (+73) and other service activities (+67).
The main figures for the hotel industry saw an improvement. The number of rooms occupied and the number of check-ins both rose, while the average length of stay was stable.
There was a slowdown in cumulative cruise activity since the beginning of the year, however although there were 14 fewer port-of-call days, the number of cruise visitor days increased.
The cumulative value of real estate transactions (sales and resales) was up by 4.4%, amounting to nearly three billion euros (€2.8 billion).
The number of new vehicles registered rose slightly compared to the previous year (+17) thanks to an excellent second half of the year.
Use of public car parks declined. Air traffic was up but passenger numbers were down.
Download the Economy Bulletin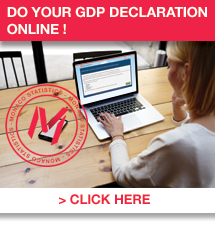 Contact