Economy Bulletin
Data at 4th quarter 2020
Total trade, excluding France, fell sharply to reach 2016 levels.
Despite slightly better performance in the fourth quarter than during the same period last year, the Principality's total revenue, excluding financial and insurance activities, was still adversely affected by the results in Q2. As at the end of December 2020, total revenue was €13.8 billion, a decline of €1.18 billion (-7.5%) compared with 2019.
Private-sector employment bounced back in late 2020, although it remained at a lower level than in 2019.
Overall, fewer new businesses were started during the year (728 compared with 882 in 2019, a fall of 17.5%). The number of businesses closed also fell across the year as a whole, but was higher during the second half of the year.
The main hotel industry figures have seen a precipitous decline. Cruise activity remains at a halt following the closure of territorial waters.
The real estate market is down compared with 2019.
The number of new vehicles registered and the use of public car parks saw a slight recovery in the fourth quarter, but fell by 22% across the year as a whole. Air traffic continues to be extremely hard hit, despite the slight improvement during the summer period.
Download the Economy Bulletin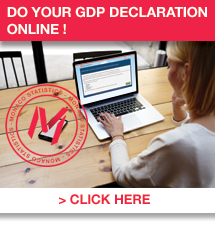 Contact