Foreign Trade
As a result of the Customs Union which exists between France and the Principality of Monaco, goods and services traded between the two countries are not subject to customs formalities. The data presented here relates solely to trade between the Principality of Monaco and the rest of the world, excluding France.
According to the global trade statistics which have been studied by the World Trade Organization (WTO) over a long period, economic growth and growth in international trade have always been linked. The WTO notes that global trade has historically increased at an average of 1.5 times faster than GDP. Since 2010, however, this ratio has been getting closer to 1 to 1.
It is hardly surprising, then, that in this context of weak global growth, international trade has experienced a modest increase.
According to the WTO, 2016, for which definitive results are not yet known (March 2017), is expected to see growth of 1.7% in global trade over the year. These results were negatively impacted by a difficult beginning to 2016, including a decline in the first quarter.
The year 2016 is expected to be marked by the slowest growth in global trade and production since the 2009 economic crisis.
2016 Balance of trade
| | | |
| --- | --- | --- |
| - 381.4 | million euros | Source: Monaco Statistics |
2016 Exports
| | | |
| --- | --- | --- |
| 905.8 | million euros | Source: Monaco Statistics |
2016 Imports
| | | |
| --- | --- | --- |
| 1 287.2 | million euros | Source: Monaco Statistics |
In this sluggish international context, the Principality of Monaco's foreign trade saw more dynamic growth than the global average in 2016, with an increase of 7.5%.
Similarly, growth above the international average has also been observed in national GDP since it was first tracked in 2005.
For the last four years, the total volume has remained stable at around €2.2 billion, an increase of 46% since 2012. However, imports have risen more quickly than exports, increasing the trade deficit which has been steadily widening since 2013.
Monaco's trade remains essentially with partners on the European continent, who accounted for nearly 80% in 2016.
The majority of trade is in industrial products; the manufacture of other industrial products (chemical industry, etc.).
Download the Foreign Trade Observatories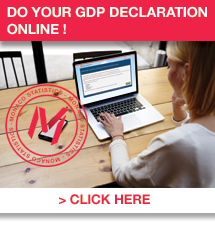 Consult
Key figures
Contact