Focus Population - Employment
Focus Population - Employment
Employees
This Focus is dedicated to employees registrated at Monaco Social Funds.
In December 2017, there are 49,693 employees in the Principality's private sector, an increase of 1,774 employees (+3.7 %) compared to the previous year.
Download the Focus : Employees
Meteorology
The year 2017 was in line with the norms for the temperatures, but particularly dry with regard to the rainfall inputs.
This sixth edition of the Focus : Climate and meteorology also presents an analysis of the sunshine, wind and hygrometry data recorded by the meteorological station of the Department of the Environment located on the roof of the Monaco Oceanographic Museum.
[Télécharger la publication pour en savoir plus]
Built surfaces
This Focus is about built surfaces in Monaco. It provides, for each district, an overview of the land occupancy by type of use : residential, commercial, public, industrial...
The data come from the Atlas of Monaco buildings (second edition : year 2017) set up by the Department of Forward Studies, Urban Planning and Mobility.
More than a third (34.5%) of the 2 km² of the Principality are occupied by buildings (about 0.7 km²).
Download the Focus : Built surfaces
Public service
As at 31 December 2016, there are 4 528 administrative officers and employees. It represents 8.6 % of the Principality employed population. They are 76 more employees this year (+1.7%).
57% of administrative officers and employees are men, 65% are French national and one out of two leaves in Monaco. The average age is 43 years and 8 months old but half of the population is older than 45 years old.
Download the Focus : Public service
Education
As at 31 December 2016, there are 6 328 pupils in Monaco educational system, without students of higher education. This figure is slightly higher than last year (+0,8 %).
Public primary and secondary schools include 69.6 % of pupils.
Download the Focus : Education
Employment
This edition of Focus looks at jobs registered with the Monaco Social Security Funds.
In December 2016, there are 51,200 jobs in the private sector in the Principality, which equals a increase of 667 jobs (+1.3 %) compared to the previous year.
Download the Focus : Employment
Higher education
The Principality of Monaco has 837 students on its territory as at 31 December 2014.
This figure represents an increase of 11 % compared to last year.
The International University of Monaco (IUM) includes nearly two-thirds of the number of students.
Download the Focus : Higher education
Demography
2014 follows the trend in recent years. Birth rate remains at a sustained level with 105 births (birth rate of 11.7 ‰) and fertility rate which is still higher than 2 for over 10 years.
As at 30 June 2015, the number of Monegasque nationals was 8,985.
Download the Focus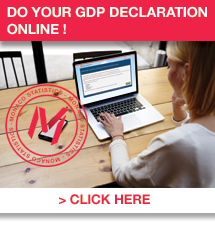 Consult
Key figures
Contact